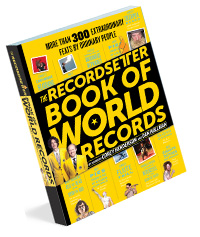 By Amy Beitzel
The Longest High Five.
The Largest Cardboard Fort.
The Fastest Time to Stack Ten Cheerios.
The Longest, Slowest, Most Peculiar Flight to Wright Brothers Airport in an Antique Airplane.
What do they all have in common? A world record attempt on RecordSetter.com! The folks at RecordSetter are like proud parents – they believe in you, think that you are the best at something, and want to see you shine. That's right, RecordSetter.com believes everyone can hold a world record for something and has issued the challenge for creative competition.
Unlike the other old, stuffy world record organizations, RecordSetter.com is free and open to anyone willing to document their safe, harmless, and fun exploits. Founded at the Burning Man Festival, RecordSetter.com wants to see just what people can do.
Pilots Joe Murray and Ron Siwik will attempt their record starting May 13th. Follow their progress here on the website — track the flight in real time and watch for photos and anecdotes on the blog. It's going to be an unusual adventure!
Lost in Oscar Hotel has accepted the RecordSetter challenge, will you?