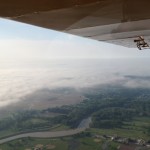 We departed Port Clinton to a beautiful morning, but quickly discovered that our first intended destination (Sandusky, S23) was completely fogged in.  One hundred foot ceiling and 1/4 mile visability.   So we set a heading for west and found that the fog stopped just short of Freemont Airport.
So we landed at Freemont.  To our surprise we were greeted by State Representative Rex Damschroder and his mom.  The office and ramp security consisted of the airport dog who beat Joe's knees with a wagging tail.  Two DC3s  here are worth another look.  Full of stories, no doubt.
We got delayed for a while at Toledo Express because of a little ATC, but discovered one of the FBOs helps to sponsor honor flights for veterans–a subject that photographer David Labelle is quite interested to record.  Ron offered to fly us back in his Bonanza later this summer.  The delays caused us to miss a few counties–but we did make it to Van Wert to a warm reception and a grass runway.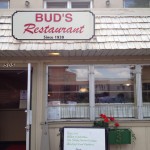 We managed to borrow a car at Defiance Airport thanks to Tim and he sent us to Bud's Restaurant for a little R&R and homemade strawberry pie.  It is a favorite hangout not only for the pilots arriving in town but everyone else who has eaten there.  I'll be going back!
We also backtracked to see our favorite Flying Farmer Nick (Ray) Johanne his family and flight instructor Bob Carruthers.  We arrived late to Findlay, tied down on the ramp, and Ron stuck out his thumb on highway 16 to get us a ride to a nearby hotel.  Our new best friend and guardian angel Daniel pulled up and helped us to chuck a few hundred pounds of our gear into his already stuffed car trunk.  He refused our offers to pay for his fuel, shook each of our hands and said "Praise the Lord" before he drove off.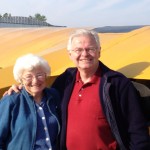 The hotel we selected was at capacity, but they managed to accomodate us even though the person who walked in right after us got turned away.  We met some terrific people at all of the airports and everyone autographed the aircraft fabric and wished us well.  We'll have to backtrack this morning to visit Putnam County and we've added Allen County to our route when we return to the west.
Mike and Amy have done an amazing job of trying to keep us all on track, but I made a decision to bag the daily flight log.  In spite of Mike's best efforts  it is clear that Ron and I will not be able to keep a flight schedule anywhere near as good as the airlines.  Our new method will be to project a list of counties for the day and try to keep Joe's iPhone battery going long enough to live-track the flight so everyone knows where we are.  The weather has been amazingly good–a lot of thermal action  had us riding a roller coaster under the cumulus clouds by midday–but no rain!  Gary's photos are great and a handful have been uploaded by Amy to the home page–check them out!