Book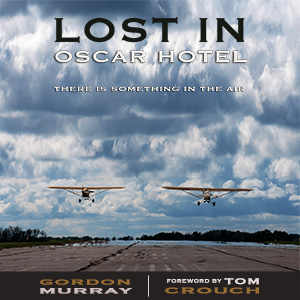 Lost in Oscar Hotel
There is Something in the Air
By Gordon Murray
Photographs by Gary Harwood, Laura Fong, Phil Botta, & Sam Verbulecz.
Mirabilis Books. Available May 13, 2014.
Hardcover Edition $32.95 US
216mm x 216mm, 176 Pages, 60 full-color photos
ISBN 978-0-9860620-0-1
Kindle Edition $9.99 US
ISBN 978-0-9860620-1-8
iBook Edition $9.99 US
ISBN  978-0-9860620-2-5
In Lost in Oscar Hotel, J3 pilot and author Gordon Murray chronicles: "The first, longest, slowest and most peculiar flight to Wright Brothers Airport ever made in an antique airplane." The flight was a real world record—albeit a strange one. Yet, it was won alongside an accounting of odd discoveries; beautifully captured images by master photographer, Gary Harwood; and the spinning of flying tales.
Lost in Oscar Hotel reveals a hidden universe of people involved in that other kind of flying and another kind of life, and distills the stories and pictures to document an existence in a world that stands apart from what the public commonly knows. It is a story of love, and the nearly forgotten secret that airplanes were the original Internet—invented to bring people in this world together.
Online pre-order of hardcover and Kindle editions will help to support student scholarships.  To receive updates on delivery dates and discounts follow us on Twitter.