Route
Back by popular demand–DOWNLOAD THE DAILY FLIGHT LOG (PDF).
Where in the world (OK, Ohio) are Joe and Ron now?   TRACK THE FLIGHT LIVE across Ohio in real-time during daylight hours and as long as Joe's iPhone battery stays charged.
We will also be posting messages and updates to the BLOG and TWITTER during the flight.
A Remarkable Journey
Joe Murray says he woke up one day last November and realized that he couldn't write a book about flying in Ohio without first seeing as much of it as possible from the air. And, from talking with his students, he also reckoned the flight might be a good opportunity to inspire others to support a scholarship to send a child to college for the first time.  So, this spring, he and fellow pilot Ron Siwik will depart on the odyssey that will take them 1,670 miles over the state of Ohio, with the two aircraft often flying low enough to shout an occasional greeting to those who show up to cheer them on.  Along the meandering route throughout the state, the two iconic yellow Piper Cubs will touch down in all of Ohio's 88 counties.  Murray's goal is to discover some great flying stories, help his students and encourage people to contribute to the scholarship.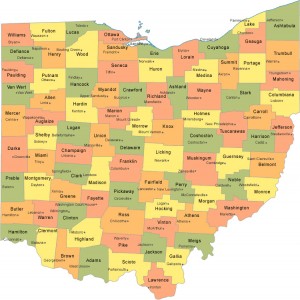 Murray and Siwik hope to complete the flight in about two week's time, departing each day at first light and camping under the wing and stars in the evenings when able.
The pilots anticipate flying for several hours each day, but Murray in particular, is planning extra time on the ground at every airfield to meet people and research stories for the book that he and photographer Gary Harwood expect to publish next year.
In planning the flight, Murray says he wanted to include as many of the county airports as possible that were first established in Ohio between 1970-1986.
One of the stops on the record-making flight will include Beach City Airport, a small grass airfield in Stark County. Beach City, in spite of its name, doesn't have a beach, nor is there even so much as a farmer's pond anywhere near it. Murray says it may reveal something much more interesting. He thinks the original Douglas DC-3 that was used to commission all of Ohio's county airports may be parked in the grass there.
What's in a Name?
Other unusual waypoints will land the Cubs at Port-o-John Airport in Pickaway County, and Checkpoint Charlie Airport in Marietta County. Murray will look for astronaut Neil Armstrong at Armstrong's namesake airport in Auglaize County, and he hopes to hop a ride in a classic Waco Aircraft while visiting Troy. Murray says, "Every airport in Ohio has its own unique connection to the legacy of flight," and he looks forward to discovering as much material as possible for the book over the course of his journey.  (Pilots can explore the detailed route here with SkyVector.)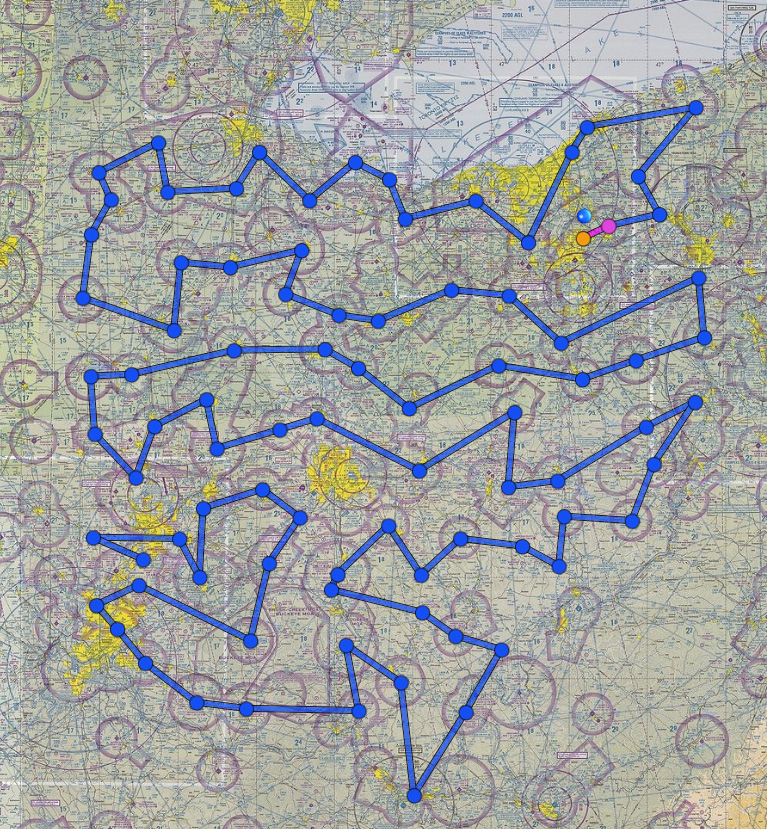 Murray and Siwik's trek south to Orville and Wilbur Wright's airport in Dayton will first depart north from Kent, and then zig west along the north coast of Ohio and Lake Erie. Upon reaching the Ohio-Indiana state line, they'll zag east, back to Ohio's border with Pennsylvania. From there, they'll turn the airplanes around and fly west again—covering approximately 230 miles in a day and making a dozen landings, while slowly progressing south toward their final destination.
The flyers will repeat this several more times in as many days. If the weather is favorable after 19 hours aloft, and having just flown to all of the counties along Ohio's border with Kentucky and West Virginia, Murray and Siwik will catch their first glimpse of Dayton from the south in Warren County. But they will need to continue for 180 more miles, flying a crooked path around the compass rose and landing in eight more counties before calling an end to the adventure. They will eventually be aiming the J3s west toward a landing at Morningstar North, a small grass airfield in Preble County. From there, the pair will depart once more; take up a heading of southeast, and in 16 miles will land where aviation first began. The journey will be complete.
Route Airport Identifiers
1G3 KPOV 62D 7G8 KHZY KLNN KCGF 1G5 1G1 5A1 KSKY KPCW 14G 1G0 KTOL 7W5 KUSE 0G6 KDFI 2H8 KVNW KAOH KOWX KFDY 16G 56D 17G KGQQ 3G4 KBJJ 2D7 4G4 02G KTSO KPHD 10G 4I3 4I9 KMNN I95 KAXV KCQA KVES 37I I12 KEDJ I74 KMRT KDLZ KVTA OH82 KZZV KCDI 8G6 2G2 2P7 4G5 I10 OI27 I71 I86 OI01 KLHQ KCYO KRZT 22I KUNI KGAS KHTW I43 KEOP KPMH KAMT KGEO I69 KISZ KHAO I68 KHOC I23 2OH8 04I KUYF KSGH I66 I19 3OH1 KMGY